Journal From a Journey to France
Part VI: Vers (Languedoc-Roussillon)
Thursday, 10 June 1999
In the morning, we share our breakfast in the hotel in Le Mont Dore with Matthew and Sandi. The dining room is deserted except for us, and we enjoy wandering through the solarium (or TV room) with elaborate planting, several terrariums, and a nearly Victorian atmosphere. It's a shame to leave such a beautiful setting, but Vers is calling and we head on south, taking the Autoroute. The AR is not a toll road here, and cuts through nearly unpopulated land until we turn off onto a National Route and take a detour to Menerbe. Here we find diesel for the car and proceed on towards Vers. Here the road climbs gradually to a pass, and then the land drops off precipitously below us to the bottom of a valley far below. The scene is reminiscent of the road to Cody, Wyoming from Yellowstone National Park.
As we descend towards Ales, it is clear why Martin has chosen this area to buy a house, for the landscape bears an uncanny similarity to California's Central Valley and the Capay Valley. The freeways are even planted with oleander!
Past Ales, the road leads through an alley of sycamore trees so close together there is barely room for two cars to pass going in opposite directions. This is not enough to inhibit the crazy French drivers, but it is sure scary for me!
Finally we arrive in Vers, and after getting lost several times, we find our way back to the church, and MB goes in search of Pierre, who lives next to the church. She returns in a few minutes with Nolie, and we drive to Martin's. We find that everyone else has already arrived. Pierre gives us a tour of the house, for which he has done most of the restoration. We learn that Martin's first guests had responded to his "Rough it in the Ruins" ad, which was apparently an accurate representation, the section closest to the road haven needed an entirely new roof. And the entry stairs were so deeply worn that Patrice, the artist who resides in the house but is now absent, had restored the original level with rocks ornately set into cement. We tour the house, admiring Pierre's handiwork.
The others have already found the wine co-op, so we have a good supply as we sit and chat with Pierre. Eventually, his daughters come by to remind him to come home.
Friday, 11 June 1999
Friday is market day in Remoulin, so we head there early. Just outside town, a small square is crowded with vendors under the watchful eye of a colorful Mary atop a pedestal. Vendors sell everything from cheese, sausage, and bread to fabric, dresses and toys. Gabriel finds a bag of plastic army toys for 35F, Sandi finds a new dress, and we stock our larder with bread and cheese.
In the afternoon, Pierre says he has heard from Martin, who was calling from London. Pierre will pick him up at the railway station this evening at 9:30. This afternoon he has an appointment to look at a house painting job for rich Germans who have bought an entire village of a dozen houses near by. The rest of the day is time to catch up on our washing, after MB, Peg, and Sandi return from Uzes, frustrated by the traffic and their inability to find a laundromat. And time to explore the house (and record my observations).
In the evening, Martin arrives late and we spend a couple of more hours chatting with Martin and Pierre. Patrice, the artist, is in Séte where there is an exhibit of his work. We learn that he apparently won't be returning before the end of the month perhaps to avoid the American tourists, but it is not clear that that was necessarily his idea. Nevertheless, Martin hopes we will be able to have a grand celebratory dinner with him sometime next week.
Saturday, 12 June 1999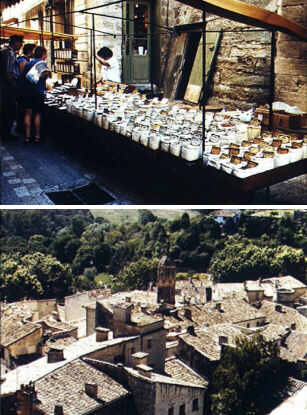 Saturday is market day in Uzes, so we are up relatively early and heading back to Uzes. The whole town, it seems, is occupied by vendors of just about everything that can be sold from a mobile stall. We're lucky to have Martin as a tour guide, for we would never be able to find our way otherwise. We are soon lost in the maze of streets and stands, and soon lose sight of Matthew and Sandi. We are near a bank, so I take advantage of the local ATM to replenish our supply of cash, and we wander through the stands for awhile, stopping at a cafe with Peg and Nolie for coffee and a bit of people-watching.
Refreshed, we continue on our separate ways. Martin and the three of us find our way to the citadel in the center of town, and pay 20F to visit the tower. A sign at the bottom warns that it is 135 steps to the top. We struggle up yet another narrow spiral stone staircase to the top, where we find a wonderful view of the surrounding countryside and the city of Uzes. As we are enjoyng the view, we find that Gabriel has disappeared. He returns soon to tell us that there are only 134 steps – he went all the way down and came back up, counting them all the way! Not so limber, I have apparently strained a muscle in my leg negotiating the steps, and it complains on the way down and continues to bother me for the next couple of days. The thought of climbing more towers like this at Carcassonne becomes much less appealing.
Gabriel, of course, would like to see the dungeon, so Martin sets off to find it, and fortunately finds a WC and a nice garden along the way. Soon an attendant appears, and opens a door leading down into a cool and musty cellar – the wine cellar, as it turns out. We enjoy a taste of the wine, and Martin buys a bottle.
By now it is nearly noon, and time to buy provisions for dinner. We will have a crowd with Pierre's family, so we buy two cooked chickens from a rotisserie, vegetables, and fruit. A local store provides rice. By now the others are long gone, and it is with some difficulty that Martin finds the way back to our car.
In the afternoon we are to meet Pierre and family at the Gordon River near Collias for a swim. When they stop by the house, we are not ready, so they continue on. When we're ready, Martin escorts the three of us by car to the river, where Gabriel enjoys swimming. Eventually Pierre, Meghan, and the kids catch up eith us, though we had long since given up on finding them. The bank of the river is lined with rent-a-canoes, ice-cream stands, and even a cafe.
Later in the day we find that Pierre's daughter, Barbara, has other plans for the evening. The others, however, arrive for dinner, and we eat and chat into the night. We learn a bit of Pierre's travels to India, his arrival in the Fair Isles, where he met Meghan, and their eventual return to France. Pierre speaks at least six languages, which is certainly fortunate for us. Their kids speak French, of course, but Meghan is also teaching them Fairese. We wonder what language Pierre speaks when he is talking to himself!
Tomorrow we will head for the medieval walled city of Carcassonne.
Tuesday, 15 June 1999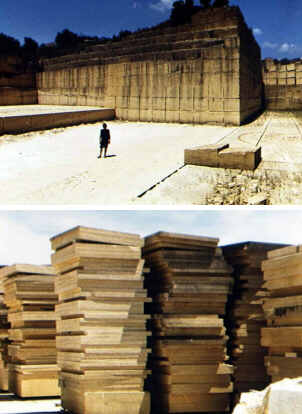 Martin leads us on a brief tour of Vers, heading up to the rock quarry from which the stones for the Pont du Gard were carved. His friend John Davies is not there, unfortunately, so we wander through the quarry on our own. There are three active quarries in Vers which remove huge blocks of limestone for building. In front of the office a fresh slab lies on the surrounding wall. On it is the emblem and name of Harvard University. As we leave the quarry, a large stone to the right of the road is inscribed with a quotation from Einstein (in French, of course). "The perfection of detail and the confusion about objectives are the great characteristics of our times." I wish we could linger longer here. We learn later that John's mother is gravely ill, and he will need to leave on Saturday. In the meantime, he has a lot of work to finish, so we will not have the opportunity to meet him more than to say hello. Another slab in the quarry carries an extended inscription, clearly hand cut (rather than sandblasted).
After visiting the fountain at the town square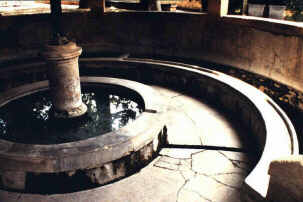 , we continue our walk past the eastern wall of the English estate down a narrow footpath with garden plots on the other side. A tiny trickle of water runs down a gutter along the side of the path, with occasional pipes leading across to the garden plots. This is the irrigation channel, and people can take their allotted share of water at specified times of the day for their gardens. As we reach the end of the English estate, another narrow footpath between stone walls leads across to the east. On the south side is the cemetery, and on the north, the estate. Going inside the cemetery, I'm surprised to find that nearly all of the plots are fairly recent, with only a few dating from before the turn of the century. I learn later that it is the European custom to rent plots for specified periods, commonly 25 years, after which the plot is recycled if the rent isn't renewed. And each family plot, commonly about ten by fifteen feet, is clearly used for everyone in the family. After our walk, we enjoy a siesta, and catch up on Peg and Nolie's travels when they return.
Wednesday, 16 June 1999
After our traditional coffee and pastries together for breakfast, we head off toward Nyons in search of lavender fields. Heading north on the NR, the road travels up a valley that could easily be mistaken for the Capay Valley. Soon we find ourselves going through ____ on market day. With a bit of difficulty, we find a place to park and head for the market. MB finds napkins, but no luck on finding a larger scarf which she had wanted to protect her shoulders from the sun. We do find provisions for our lunch, however, and continue on north, following the Rhone valley until we cross it to head towards Nyons. On the east side of the Rhone, the land is intensively cultivated for grapes.
We arrive in Nyons about 20 minutes before the TI opens at 2 p.m., so we park in the shade and have a snack. The TI has a "lavender routes" map, and with the aid of a city map, we find our way to the "Jardin des Aromas," (garden of fragrances) next to which is a picnic area for the rest of our lunch. Down the road (returning the way we came) is the distillery of Bleu Provence, where we poke around the facilities and MB finds a bottle of lily of the valley essence. As a tour bus pulls in, we head out, following the map northeast, then south in search of lavender fields. The road winds through spectacular mountainous country with occasional small patches of lavender. Here in the mountains, the lavender clearly blooms much later, so we find only small fields tantalizingly close to blooming.
The scenery is spectacular, but we are tired and ready for a nap, so we head back through the old Roman town of Vaison and back through the wine country to Vers. Back at the house, we find that Peg and Nollie followed a similar route, but continued on over Mt. Ventoux, finding some lavender in bloom on the south side.
Meanwhile, Martin has successfully returned from a computer shopping trip to Nimes, with an I-Mac computer for Pierre. Martin wants Pierre to be his local e-mail contact, as well as handy-man. I suspect Martin will have a hard time competing for his time with the Germans, who have a whole village to be restored, and the money with which to do it. We are able to get the computer plugged in, but not much more.
Thursday, 17 June 1999
After our usual breakfast, the four of us take off on foot for the Pont du Gard. Not surprisingly, Martin takes a wrong turn which leads us to the west exit from the highway to Vers instead of the middle exit, so the 45 min. walk turns into an expedition. But we step off the road into an orchard with cherries and apricots which seem to have been abandoned, probably for lack of available farm labor. We enjoy a few with some edible mulberries (different from the tree in the courtyard) for variety. On towards the Pont du Gard, we find an ancient church with one side supported by large braces and cement piers. The only windows are small holes in the wall. It must have been a gloomy place at its best.
As we approach the Pont du Gard, first cars, then tour busses come into view, and then the huge aqueduct itself. Across the 18th century bridge adjacent to the aqueduct, we wander down the "Rive Droit" (right bank) road to a small cafe and have lemonade, followed by a single scoop ice cream cone each for nearly 100F. Recrossing the river, we fullow the route of the aqueduct towards Vers. This part is unprotected and unrestored. Nevertheless, it is impressive to see a half-arch hanging our over the road, as much a monument to the skill of the builders as the aqueduct itself. On across the highway, we head for an obscure bar that Martin had discovered during a previous visit. Not surprisingly, no one is home. Martin is impressed by the fact that the establishment is "off the grid." He waters the chickens and we leave 2F on the table as a token of our visit. On along the remains of the aqueduct, we pass "defense truffere S.V.P." (no truffle hunting!) signs, and continue down towards the village. Another orchard, also only partially harvested, yields another pile of windfall apricots for the house. Then as we approach the edge of town, we follow another narrow footpath formerly confined on both sides by stone walls. But now one side has been bulldozed to make a roadway.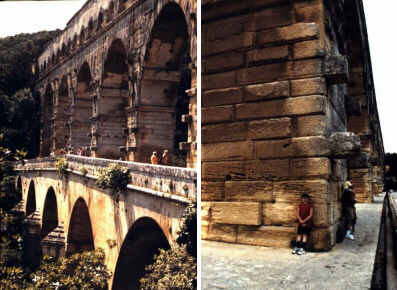 We enter the east side of town at the bottom of the path at what Martin calls the "Fountain of Youth." The water here is certainly refreshing – we fill our water bottles. This is one of three fountains in the village, all equipped with areas for washing clothes and for clean water. Though obviously old, these are apparently not of ancient origin, at least the structures which cover them are not.
After a siesta, it is time to join Dominique for a picnic. Martin had met her on an earlier visit and struck up a friendship, later employing her to provide furniture for the house. Although our arrival had provided a deadline for completing work on the house, Pierre had not been able to finish the painting until shortly before our arrival, so Dominique had not had much time to furnish it. Nevertheless, the variety of furniture is delightful. We head towards Remoulin, then north, under the AR and on to the small village where she lives. Her small apartment on three floors is filled with antique furniture in various stages of restoration, along with all of her tools and a variety of pieces which she has carved from wood. Martin gives her a 200F deposit on a carved knife, and we do the same for another. Then its on to the countryside for our picnic. Martin and Dominique are riding with Peg and Nolie, so we do not get to hear their conversation, but it is clear that they are having difficulty finding the picnic spot which they had intended. We stop first in the parking lot for the ruins of an old abbey, but it is not the right place, so we continue on to Mt. Frigolet, where we have our picnic on the grounds of this active abbey, then explore the grounds.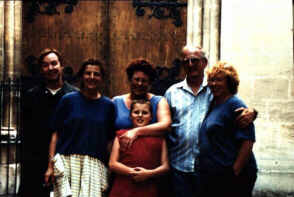 As we continue back to the parking lot, I comment on the lavender and green colors of the rocks, which reminds Dominique of visiting the site of a road excavation near Marseilles. There a friend was examining dinosaur fossils which had been exposed, including an obvious nest with broken eggs.
As it grows dark, we head back to Vers, crossing the Rhone on a dam, and back through Remoulin.
Friday, 18 June 1999
A day of rest and recuperation and clothes washing! Peg and MB are going to hit the market in Remoulin, so I take Martin to "Mr. Bricolage" (a hardware store) near Uzes for a surge suppressor and other hardware before they go. In the evening, we are to meet Martin and Dominique at Pierre's brother's restaurant in Collias for dinner.
In the afternoon, Martin's friend Surinder drops by to say hello. An interesting character who ran the restaurant now operated by Pierre's brother Christian, but at the time it was an Italian restaurant. He now has a business which fires up new furnaces for glass production and other purposes such as a new garbage-burning power plant in Portugal. A highly specialized business with a limited clientele, it takes him all over the world. Asia is his favorite, since the life style is more relaxed there than in Europe.
Before long, other guests arrive, a Joseph Smith and a friend of his. Joe is the person who designed John Davies' brochure, and Martin is hoping to get him to be Pierre's local computer mentor. During the conversation, he mentions having been in France for seven years, before which he had been a web-page designer in New York. This is certainly astounding, considering the small reach of the web seven years ago. He is a classic expatriot, having returned to the U.S. only once, that being for his daughter's wedding. He claims to have been desperate to return to France. We establish that the French for "expatriot" is "expatriot."
Surinder leaves after a bit, promising to return for dinner if possible. Martin takes Joe Smith and his friend over to Pierre's. They are, of course, invited to dinner as well. We begin to wonder how big this restaurant is, and who is going to pay for dinner for all of these people! From Pierre's, Martin will ride his bicycle to meet Dominique for an apricot-picking date.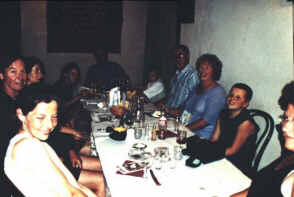 At 7:45, we head over to Pierre's to collect his family, but by this time his daughter Barbara is hooked on the dinosaur game that came preloaded on the I-Mac, and it is with considerable difficulty that everyone is ushered out of the house. Pierre guides us to the neighboring village of Collias, where we feast on wine and galletes of spinach, eggs, and ham (jambon being one of the first words Gabriel had added to his French vocabulary), mushrooms (champignons), a great selection of olives, and other wonderful things. The restaurant is decorated with quilts, the work of Christian's wife. Peggy would like to talk to her, but she is busy cooking in the kitchen, and even at midnight there are still thirty people waiting to be served. The French clearly enjoy their late dinners. By the time we get Martin's bicycle into the car and drive home, it is nearly midnight.
Saturday, 19 June 1999
A less than wonderful day – after breakfast we bid farewell to Peg and Nolie, who are turning in their car today in Avignon and taking the TGV to Paris, with hopes of seeing some of the sights that were closed when we arrived. We head for Arles, there to check the train schedules for Chamonix. We are so hot, that the thought of continuing on to Florence has lost its appeal, knowing that it will be even hotter there. We also hope to find a fabric store that MB is interested in.
It's a quick trip to Arles on the AR when we finally get going, but by the time we get there, it is nearly noon, so we take the road north in hopes of finding the fabric store before they close for lunch. But we have no luck, and so skip the sights of Arles to head north towards Avignon where we hope to find another store. But at a stop sign, we bump a Mercedes ahead of us, which rips off our front license plate, but apparently does no damage to the car, other than to take off the plastic cover on their trailer hitch.
Now we need to stop at the car rental office in Avignon to report the damage, but of course they are closed for lunch, and we wander across the street into the old part of town to find some lunch (after a rest stop at the train station near by. We eat our pizza/pastries/pop in a little park just inside the ramparts, behind a gothic church surrounded by outsized buttresses and the remains of old arched walls. It would appear that this church, though well cared-for, has seen more glorious days in the distant past.
After 2 p.m., we head back to the rental office, and I go to retrieve the car from the parking garage. The validation machine refuses to accept my last 10F coin. Unfortunately, I don't have enough other coins, so I keep feeding the same one back through the machine until it is finally accepted.
At the office, they pop-rivet the license plate back onto the car for 27F, and send us on our way. We check the train schedule to Chamonix at the station, and find that since it doesn't involve the TGV, we won't need to buy tickets and reserve seats in advance.
Back in Vers, Gabriel goes to the square to play boules while MB naps. After a bit, I follow Gabriel to the square and sit on the wall of the fountain catching up in the journal. At 5 p.m., Gabriel and I head on over to Pierre's, where Martin is giving computer lessons. But as we approach the church, we see Sophie and Stephan, Pierre's younger children in front of the bar, and then it's "bon jour" from Martin, who is sitting there with Patrice enjoying a beer. I join them there, while Gabriel goes on to Pierre's house to liberate him from a run-away dinosaur game on the computer.
After a bit, Martin and I return to the house and Gabriel arrives shortly thereafter. According to Martin, Patrice will join us for "appertifs" around 7 p.m., so we have a snack and rest a bit.
Sometime well after 7 p.m., Patrice appears and we have some wine and a light dinner. Martin is upset that we prefer to eat in the courtyard, as he envisions sitting / eating / drinking / food preparation going on simultaneously, and we obviously can't do that if we are not eating in the kitchen. Martin (who speaks little French, not much more than we do) carries on extensive conversations with Patrice (who speaks no English) in sign language and occasional bits of French. Our interpretations of what Patrice has said do not always coincide, though between us, we seem to get a bit of what he's trying to say. It's a lot of work for not much content, with frequent periods of contemplation. Overall, though, I'm impressed with Martin's ability to engage people without being able to speak the language.
Sunday, 20 June 1999
The selection of pastries for our Sunday morning breakfast is fairly limited. I inquire about one at the bakery about one in the case and the lady says something about poisson (fish), which I suppose to be a reference to its shape, not its content. But as it turns out, the latter is the case.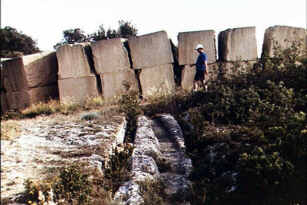 This is our morning for a walk to Castillon, but Martin's memory is hazy, and we find ourselves above one of the stone quarries. This turns out to be good fortune, though, as we come across ruts in the stone made by the carts conveying stones from the quarry to build the Pont du Gard. We can see Castillon from the tops of the stone wall around the quarry.
Back on the road, we meander through the "suburbs" of Vers, noting English names on several mailboxes, the variety of different roof tiles, and other building techniques. A curb and a strip of gravel seems to be the only sidewalk in Vers (apart from the footpaths). Martin says that it would be prohibitively expensive to rebuild his house with quarry stones today. On the other hand, it was probably pretty expensive before, since the quarry stones were only used for corners and farming windows and doors, the rest being filled in with random small uncut stones.
Just beyond the city limits of Vers is an old road marker, a small vertical stone about two feet high with "Collias 1.5 km" engraved by hand. The road continues on through vineyards, with another old church out in the middle of one field. This is the subject of a painting on the wall of the house which had been done by a friend of Martin's. MB had been attracted to the painting, but Martin says he would never sell it, due to its sentimental value.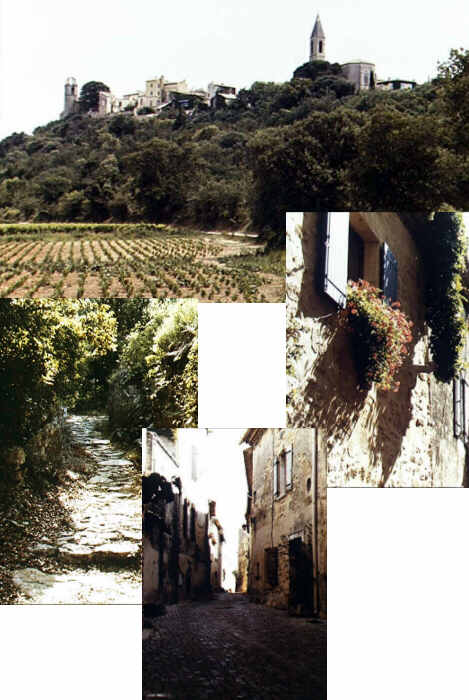 On the edge of the hill upon which Castillon is built, Martin leads us up a narrow footpath which is partially overgrown with vines and brambles. At the top, the village "square" opens in front of us. This is really just a wide spot in the road that ends at the church. The church bell rings on the hour, twice, in fact, which seems to be the local custom. Living here would surely drive me nuts – I've heard oil drums that sound better than this bell. French bells, in general, seem undistinguished. Attention to the acoustics of church bells appears to have been a British concern which did not spread to this side of the Channel.
Otherwise, it is a lovely town perched atop a hill, with carefully cobbled streets. The cobblestones are a light color, but obviously of a harder type than the local quarry stones. Most of the streets seem to have been paved in recent years.
We buy some treats at the local bakery, then sit in front of the bar at the end of the road next to the church, eating our treats with coffee from the bar, and listening to the clang of the bell in the church. "Tintinnabulation" is not a word that would have occurred to Poe had he written his poem in Castillon.
A local gallery is featuring an exposition of local artists' work, and another shop has a very expensive selection of fabrics and gift items. This is clearly an up-and-coming tourist town, complete with four-star restaurant and hotel (not that there aren't plenty of these in small towns and villages all over France!).
We return by the path by which we came into town, after enjoying a view of the Pont du Gard in the distance. At the bottom of the path we make a sharp left turn down a side road alongside another vineyard. Under one mulberry tree, we listen to an intense cicada chorus. We have heard this emblem of Provence often enough, but they seem especially numerous here.
Continuing on, the road turns into a footpath paralleling the farm road, then into a trail through scrubby forest land and along the base of low limestone cliffs. The plants are all different here, but it has been strange to see familiar plants here like maidenhair fern and liverworts growing on rock walls. The porous rock must act like a sponge, holding the little moisture which this land receives like the stones in the arched entryway to Martin's house where Pierre had found an old leak in a pipe. The forest path eventually comes out on an unpaved road leading up to the top of a ridge. From here we enjoy a last view of the Pont du Gard.
Descending gradually down the other side of the ridge, we eventually reach pavement, and the road joins the main road to Castillon at the old marker.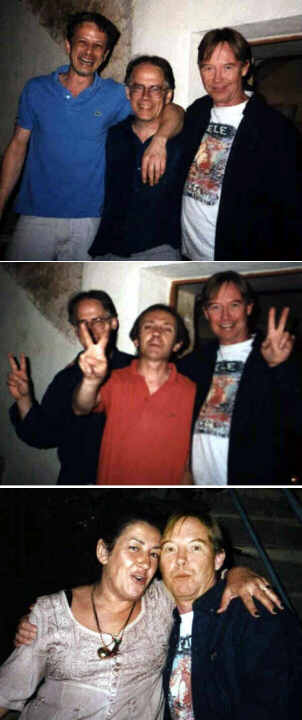 Martin spends the afternoon working on Pierre's computer, and by the time he returns, it is clear that no stores will be open for food for tonight's dinner for Patrice. (At least Martin is using Patrice's triumphal return from Sete as an excuse for a celebration with everyone he can think of to invite.) We begin to inventory the food in the house. As MB begins cooking the rice available, Martin and I head out for pizza in Uzes and whatever else we can find. We are lucky to find that the farm market on the highway is open, and buy sausage, fruit, goat cheese, and a bottle of wine there. Deciding that this will suffice, we return to the house. Martin had given Patrice some money to buy wine, and he arrives with two cases (12 bottles) of Cabernet and Merlot, both of which are excellent. Surrender arrives with two pizzas, and we have quite a spread. Others arrive, but Martin is insistent that we not eat until Michelle arrives, the owner of the house in Vers where Patrice is staying for the moment. She arrives with her little black dog Bebe (French for baby), joining Joe Smith with his funny little pugs "Madame Gaugin" (who is blind) and "Vacily" (or something like that, he's not very clear on the name), named for the way he walks, a peculiar wobbly gait.

Michelle has brought a flat pie-like dish with apricots. The apricots, she says, are from trees that are due to be cut down and replaced with a higher-yielding but not so flavorful variety. The ususal story, but it seems strange here, considering all the abandoned fruit we've seen, abandoned for lack of available farm labor and displaced by cheaper imports. With Michelle present at last, the party is in full swing, and the empty wind bottle begin to pile up. Soon Joe Smith is spitting cherry pits across the courtyard, and I retaliate by throwing them back. "No, no, you don't understand the game!" he exclaims, but we are all beyond explaining Provencal party games (or is it a Brooklyn game? This is a very international gathering), so I never do find out.

Meghan's Belgian aunt and her truck-driving husband are here, too. She wears a blouse emblazoned with "Branson." They are devoted country music buffs, and have been to the U.S. several times, and in general think the United States is a wonderful place. This is in contrast to Dominique's friend who we never get to meet – he seems to think anyone from the U.S. is a Ronald Reagan clone. Dominique's friendship with Martin is apparently a sore point, and she is not able to convince him that some Americans are decent people.

By 11 p.m., MB goes off to bed, and after midnight, I follow. I'm soon asleep. Apparently Martin follows not long after, but the party goes on. Whoever leaves last is apparently responsible for locking the gate, as we find it thus in the morning.

The Photos: A spice and herb dealer in the market at Uzes and a view from the tower (note the typical sharp boundary where the city ends and the countryside begins); A stone quarry in Vers, the slabs are probably destined to be floor "tiles." The fountain at the town square in Vers. Steam distillation apparatus at Bleu Provence in Nyons, the chamber where dried lavender plants are placed and the water cooled condensor coils. The Pont du Gard and Gabriel standing in a neglected stretch of the aqueduct near Vers. Two more views of the Pont du Gard. Martin, Dominique, MB, Gabriel, Nolie & Peg at the abbey at Frigolet. The dinner party at Collias. Ancient ruts. Views of Castillon. A final fling in Vers: Pierre, me, Martin; me, Patrice, Martin; Michelle and Martin.






Text and photos copyright 1999 Meredith L. Bliss